La Planta Nuclear de Zaporizhzhia (Ucrania), considerada la instalación nuclear más grande de Europa y bajo control de Rusia desde que comenzó la invasión a Ucrania, ha sido atacada e impactada por proyectiles de artillería y cohetes. Tanto Rusia como Ucrania, han intercambiado acusaciones mutuas sobre la responsabilidad del suceso criminal. Si bien la planta continúa operativa, el Secretario General de ONU ha reclamado que Rusia permita el acceso de inspectores internacionales a la planta, para verificar el estado de la misma y sus condiciones de seguridad. Solicitó además, que Rusia abandone la planta y que se constituya una zona "no militar" que quede fuera de las acciones de guerra, ya que de lo contrario, se podría desatar una catástrofe de magnitud incalculable, que afectaría gran parte de Europa.
---
KYIV, Ukraine — The prospect of a nuclear catastrophe spurred growing international alarm Monday after shelling hit a Russian-controlled power plant in Ukraine that is almost twice the size of Chernobyl.
United Nations Secretary-General Antonio Guterres called for international inspectors to be given access to the sprawling nuclear site as fears of a disaster grew after the weekend strikes left the plant damaged but still operational.
"Any attack to a nuclear plant is a suicidal thing," he said Monday in Tokyo after a ceremony in Hiroshima to commemorate the 77th anniversary of the world's first atomic bombing.
Russia and Ukraine have traded accusations over who is responsible for attacks on the plant, which is the largest in Europe.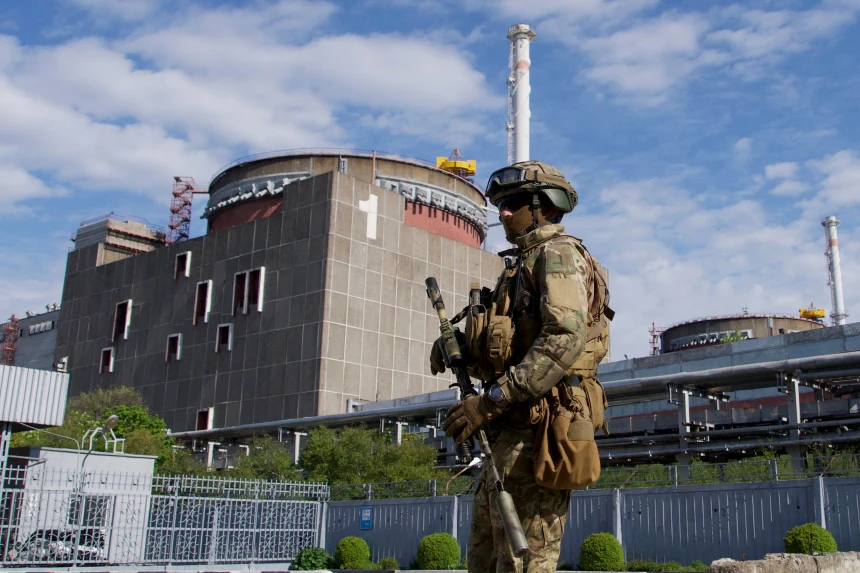 Ukraine, which said Russian shelling hit the Soviet-era site Friday and Saturday, has called for the plant to be demilitarized.
The Russian attacks damaged several buildings, put one reactor offline and raised the threat of radiation leaks and fires, according to Energoatom, Ukraine's national energy company.
The Russian Defense Ministry said it was Ukrainian artillery that hit the plant, damaging a high-voltage power line that served the Zaporizhzhia and Kherson regions.
NBC News has not verified the claims of either side.
Either way, political figures around the world have warned of the higher threat of disaster, and 54,000 people were without power as a result of the shelling, Energoatom's head said Saturday.
The plant is in Zaporizhzhia, an area of southeastern Ukraine that Russian forces seized in the early stages of the war and may now be in the sights of a Ukrainian counteroffensive.
Petro Kotin, the head of Energoatom, has called for Russian forces to withdraw and hand over control to a team of peacekeepers.
«What we need is for Russia to just release Zaporizhzhia nuclear power plant and make some type of no-military zone around it,» he said Saturday, adding that while the plant was stable, radiation levels "could increase at any moment." He warned that there was a real risk of a "nuclear catastrophe" and a "radiation catastrophe" because huge amounts of spent nuclear material could be hit by rockets.
Energoatom alleged Monday that Russian forces had placed mines in the power plant and warned that further fighting could trigger a huge disaster.
The company cited Andriy Yusov, a spokesman for the Ukrainian Defense Ministry's intelligence division, who told NBC News that Ukraine has evidence Russian forces mined the site. He said Ukrainian intelligence had been observing Russian soldiers transporting explosives and ammunition on the complex since the day they took it over.
Moscow has yet to respond to the accusation. NBC News has asked the Kremlin for a response.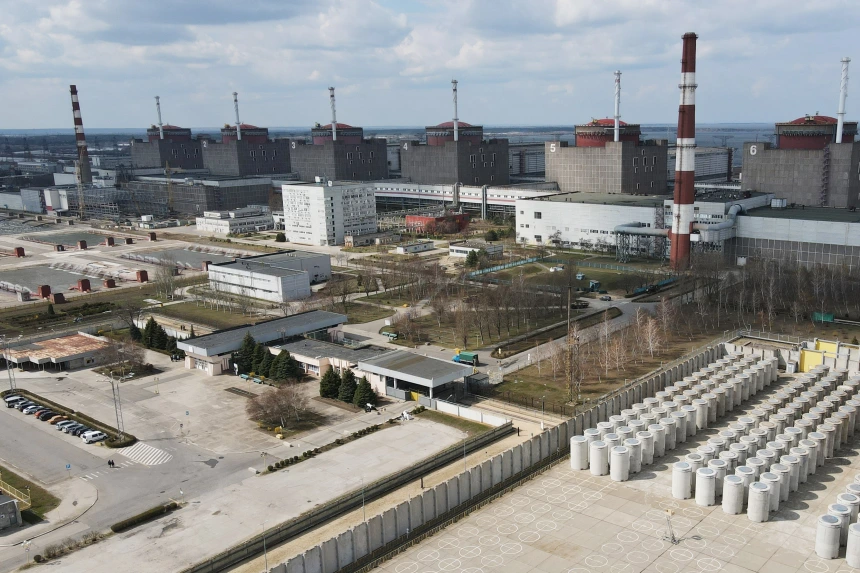 Russia has denied shelling the plant, instead accusing Ukraine's 44th Artillery Brigade of launching attacks from the nearby town of Marganets. Ukraine was responsible for "a new act of nuclear terrorism," the Russian Defense Ministry said in a statement, according to the state-owned RIA Novosti news agency.
The nuclear reactor complex was operating in «normal mode,» Yevgeniy Balitsky, the Russian-installed head of the local administration, said Monday, according to the Russian news agency Interfax. Later, the Defense Ministry said the high-voltage line had been damaged, causing a power surge and forcing staff members to reduce output from two of the site's six reactors to «prevent disruption.»
Kremlin spokesman Dmitry Peskov said the shelling was "extremely dangerous" in his daily call with reporters Monday, adding, "We expect the countries that have absolute influence on the Ukrainian leadership to use this influence in order to rule out the continuation of such shelling."
U.S. Secretary of State Antony Blinken said last week that he was «deeply concerned» by Russian forces' takeover of the plant.
«There are credible reports,» he said, «that Russia is using this plant as the equivalent of a human shield, but a nuclear shield in the sense that it's firing on Ukrainians from around the plant, and of course the Ukrainians cannot and will not fire back lest there be a terrible accident involving a nuclear plant."
Russian forces seized the plant in March, just over a week after the invasion began, but it is still run by its Ukrainian staff. Around 500 Russian soldiers and 50 military vehicles are at the plant, Energoatom said.
The 1986 disaster at the Chernobyl nuclear power plant near the northern Ukrainian city of Pripyat is considered the worst on record. It required the evacuation of more than 100,000 people living within nearly 19 miles, and the resulting radiation was detected across Europe. Officially, fewer than 50 people died as a direct result of Chernobyl, a figure that scientists and environmental groups vigorously contest.
Ukrainian lawmakers have speculated that as many as 3 million people could die and that 51 million more could be otherwise affected by radiation in a serious incident involving the Zaporizhzhia plant.
Fuente: https://www.nbcnews.com